Babka -> PO SLOVENSKY TU KLIKNI <- Mama
How to read this? If you've:
VR headset: swipe through the 150 photospheres
30sec: go through the top 50 photos.
2min: read TLDR & conclusion; check top 50 photos, if any picks your interest read the surrounding text.
5min: read TLDR & conclusion; check top 300 photos, click through my driving timelapse video; read some text, ask me a question.
15min: do the 5min thing and use the spared 10mins for something more useful.
1h: you're my grandma, read it all and fell asleep watching the timelapse video.
Disclaimer: My English is as good as an average USA high school student, I'm happy for any feedback!
Media
Driving timelapse (3h total): https://youtu.be/5AOufYiWsIQ
Top 50: https://goo.gl/photos/jXHJCWmKJWtyMPRYA (also in this post)
Photospheres: https://goo.gl/photos/kqZTM9V7Cbg7xi9RA
Video reports (I'm super amateur): https://goo.gl/photos/sk2vVyRJc42MPaBz8
Top 300 photos: https://goo.gl/photos/wmKJcqSqb9X62y239
Stats
Rough map: https://goo.gl/WzwYwQ
Distance: driven 5200miles. That's 25% more than estimated (4078miles), cause of with extra detours due to visits.
With 30fps, and 1 shot per second, it took me over 90h of driving. That's 58mph
Hiked ~210mi, elevation gain ~9km, terrain: forest, rocks, snow, sand.
List of parks:
Great Basin, NV  (dayhike summit Wheeler Peak)
Bryce Canyon, UT (just lunch)
Great Staircase Escalante, UT (hike, technically a national monument)
Capitol Reef, UT (dayhike Cassidy Arch, Frying pan loop)
Arches, UT (few short hikes)
Canyonlands, UT (few short hike, good backpack / ATV options)
Black Canyon of the Gunnison, CO (dayhike, summit bottom)
Great Sand Dunes, CO (skiing, backcountry hike Star Dune)
Rocky Mountains, CO (backpack Northern Inlet)
Grand Teton, WY (backpack Paintbrush pass)
Yellowstone, WY (backpack Black Canyon + short hikes)
Glacier, MT (backpack Stoney Indian + car views)
Mt. Rainier, WA (dayhike John Muir Camp)
Crater Lake, OR (cross-country ski with camping Sunset notch)
Redwoods, CA (hike Boyscout tree).
TLDR;
<philosophical>
My main goal of the 26 day alone trip was to "disconnect from the loud modern world". I believed this would help me clear my mind and so I can hear my true self.
Why I decided this is important to undertake? I'm struggling to express it with words, but was feeling I'm missing something in my current life, something I used to have before. These states which lasted days, when I've got completely submerged and forgot about the outside world, got passionate, entered a flow, had a purpose, however we call it nowadays.
</philosophical>
Rest of post is essentially an itinerary, review and some basic lessons learned. I've kept my inner thoughts to myself, as well some of the stories. So just surf around the post, or not, it's mostly for inspiration and my memory.
May/21 – Day 0: Let's plan this out, pack and go!
This took much longer than anticipated, originally wanted to leave on the same day.
In the end I've decided to just plan in roughly (CO,MT and back) and decide as I go and feel. Goal was to get alone in nature's beautiful settings, that for me meant backpacking in national parks.
So I've started packing, checking weather (and snow conditions) and got prepared for blazing heat, freezing cold while hiking, skiing and backpacking. This all requirements lead to my biggest REI (outdoor equipment) bill in my life.
Yeah, ultimately it took me whole day to pack, shop, check car and empty my backlog.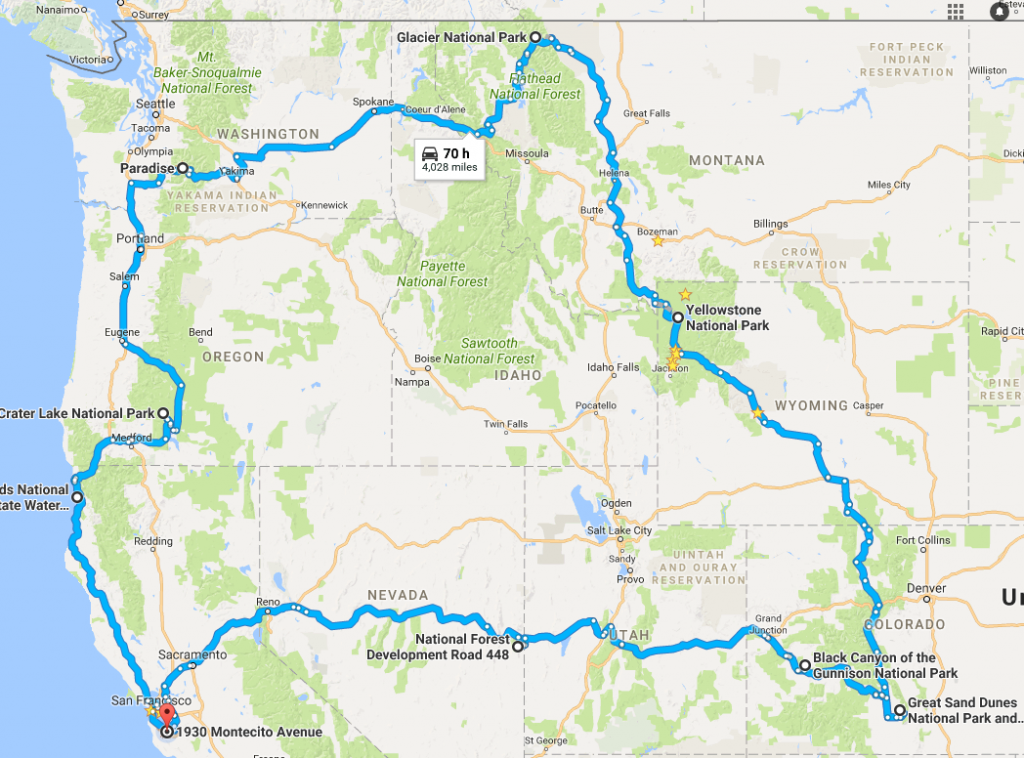 May/22 – Day 1: Driving to Great Basin Ntl. Park (11h)
Woke up 5am, left 6:30am after final checks.
Lot of things went across my mind, which job to sign (I was still deciding at this point), why I'm travelling this, what can go wrong and so on. All of these thoughts got eventually evicted by random thoughts, daydreams and memories during the 11h to East of Nevada.
Detailed Day Itinerary:
First stop at Walmart, Sacramento to get some fruit, missing stuff.
Second(unplanned) stop was Pyramid lake – where most of Tahoe sinks and evaporates. On the lakes not that far peninsula, I've seen tons of birds so I've decided to run there (was short on time). My socks in my sandals suffer from all the sticky grass, but the reward was stalking 1000+ pelicans and smelling their poop. I've this quirk of enjoying white rocks at the ocean shore.
Anyway, now I was running pretty late so drove non-stop (but fuel, photos) on the "loneliest highway of the USA" – hgwy 50 while sweating in my Miata. Why sweathing? Because roof down at 75 mph+ is too loud and sunny. And putting up my black soft top with blazing Nevada sun would require all my cars AC which I didn't want to risk – as would put lot of pressure on the engine especially during high passes.
My only conversation during the day was with the motel lady – I've said will come pretty late, she said they will charge me and leave the keys. It worked out!
May/23 – Day 2: Wheeler peak 13,094ft
I was staying at Baker, NV. It's really in the middle of nowhere, closest city being 250miles (Vegas) and only one gas station around 70miles. It's the gateway to the loneliest park – Great Basin. A prime spot for stargazing. But I like to do stuff, so instead decided on a 14 mile hike with ~4000 elevation gain would take.
Hike itself:
https://www.alltrails.com/explore/trail/us/nevada/wheeler-peak-trail
The 1h warmup was a gentle road closed due to snow.
Then I've tried to follow the trail and failed. But that's ok, as everything was covered in snow anyway. Before going sharply up, I've reached a lake with a stream and filtered some water. While enjoying the calm meadow, I've realized my big mistake. Looking from the parking lot, my theory was to climb the mountain on the exposed rocks instead of the snow – so I left my crampons, ice-axe and snow shoes in the car.
In practice, climbing the loose rock would be strenuous, so I've decided to walk up a big snow patch in a slab. Luckily wasn't too steep, snow was melted and stiff just right to make safe steps. Still, I made sure I can stop from sliding down too excitingly either by braking or hitting a rock pitch. In conclusion, it was a mistake and should've brought my gear.
So I was steadily climbing up, 10,000ft, 11,000ft … and the elevation hit me at this point. It resulted in a considerable slowdown – was able to make maybe 20 steps after a 30sec+ pause. But I was committed, persisted and slowly, I've reached the ridge.
Half of ridge-to-peak was super ok, big rocks, even exposed trail. The other half, steeper hike just before the peak felt a little dangerous, as falling to the right would result into a 500m slide (maybe stoppable, but wouldn't risk), while falling on left might be ok, but after ~20m, there was a big cliff.
In this moment your brain autoplays all similar experiences and what went wrong. For example when you were climbing Triglav and slipped, when your friend slid and died or the movie "80m below the peak", where they decided to turn back after days of climbing just below the dreaded K2 (that was a good decision). Caring this in my mind and confirming that sticking to the big rocks is safe, I've decided it will be fine up. Had a snack, looked down, said "oh shit" and started climbing carefully down (Photosphere). Thanked God when reached the lower ridge.
After the surface evened out, it was a pretty fun down. I just slid the whole snowy slab in ~15 minutes (going up took me well over 2h).
As my time was fine, I've decided to take the adventurous route back, i.e. go straight back. While walking on snow, it was fast. Crossed the official trail and decided not to take it. But then I reached some nasty bushes and even if following trails of wildlife, I just couldn't fit through the dense grow. So I had to back up a lot, go around, found some nice patches and then seeing the parking lot, I've thought: "How the hell will I get up?" Decided on a way I thought is doable, and halfway up I've reached an unofficial human trail.
Day details
Talked to a retired couple from the UK, driving across US again.
Talked to visitor center ranger, about wheeler peak conditions, shops around. Lessons learned: inquire about their life. Overall, the visitor center looked super-lonely.
Got a sticker from visitor center – decided to put one on my car for each enjoyed park. Talked with the lady about the conditions, loneliness and so. Asked her where is a restaurant – she said I should drive 10 miles that way, as Mon-Wed everything is closed in Baker.
Just on the border of Utah, there was a casino / bar / restaurant place. Got to talk to lady owner, how is life there (closest city 200miles+). You get used to it. She was from elsewhere and considered returning back.
Went to a bar, had two cokes and water. Overhead locals, two guys, one woman and the bartender. Discussed cows and bulls, types of pickups, driving to Vegas – I drive 75mph, and this Ram can go up the passes like nothing even with 5000 pounds on the trailer.
Took a long nap after my first hike and still hadn't trouble falling asleep 10pm.
Planned next days.
May/24 – Day 3: Utah scenic byway 12 (Really nice surprise)
Bryce Canyon – I've already visited, but was only a 10 mile detour for a sticker and lunch with a Grand View (Photosphere).
Hiking Lower Calf Canyon and swimming in the waterfall – losing my sunglasses.
Ruining everybody's photo.
Fail: booked a non-refundable motel farther away.
Colibri at the fancy restaurant.
May/25 – Day 4: Capitol Reef – Grand Wash + Cassidy Arch + Frying pan, UT
So originally I wanted a 2-3h hike which ended into a 5h well paced hike. But the views were stunning, seen my first (and biggest) arch and also managed to feel lonely on the Frying Pan (Photosphere).
These two guys with a baby and a camera. Travelling from North Carolina back home to Palo Alto – he does jet propulsion engines. Was behaving adventurous even with baby on back, he standed close to the hole of Cassidy Arch.
I've met more travellers like these, returning home with a car full of their stuff across the USA visiting nice places.
Stayed at Budget Inn, with this funny, a little weird looking, fell who baked cupcakes in the morning.
Way back I tried to hitch a ride couple of times, but wasn't successful. First I was shy, then said "nobody really cares" and still judged / analyzed myself for nobody stopping for me (I had blood on my shirt though).
Funky mexican eating place – used to be a gas station. https://goo.gl/maps/5ZAVrybb9RA2
May/26 – Day 5: Arches and Canyonlands, UT
Pretty busy itinerary for today, two National parks and about 6h of driving.
Arches are one of the busiest ones AND it's the Friday before Memorial day weekend. So getting up 6am, and driving there. Still, had troubles parking at the Delicate Arch trail – "the must see location of all national parks". I thought it's a hype, but found it indeed pretty unique. Just standing there, unnaturally.
Story with impressing a lady. So there are many arches in Arches, but found this huge one and wanted to get below it (Photosphere). It was a 6-7m climb up and looked pretty easy, but then I couldn't really found a spot on the 100m wide wall. After trying everything, a lady from Colorado suggests why I don't try this way, I start saying: "I've already…" but finish: "ok, let's try. Do you climb?". "I like to do what are you doing now".
Yeah, somehow I got excited to talk to somebody and my early-20s genes kicked back again and suppressed the obvious related fact that my friend cannot run anymore because he was trying to impress a lady with his climbing skills.
Anyway, after getting midway, and looking down there was no way I was going to go down that way. So proceeded and hoped I can get down from the other side (it ended up true). Got under the arch, lady took her photo and after I've failed to convince her to get up from the other easier side she left.
Ok, so I've take my photos, relaxed a while. Then later I've realized that she was also a solo traveler, maybe we can share experiences! Walked fast paced to the parking, catch her in her car only and said "Did you get the photos?". "Yep!" – and never seen her again, she was from CO.
Similar stories kept happening, and I've learned from them.
Met this old couple shouting: "We did it!". In our next two encounters, I've raised my both hands shouting the same "You did it!". Getting closer of being an american citizen.
Signed Robinhood at (truly) Grand view of Canyonlands (Photosphere). Finally decided after 2months of job hunt – compiling job search notes into a more valuable blog post, stay tuned.
Noticed there are a lot of markers for native Americans, how they lived, how they fought against Europeans and so on. As a small repercussion, USA allows natives to build casinos in their territory arguing that's their historical fun game – and that gives them some income.
Took the scenic route next to Colorado River (I've encountered it again, just where it starts in the Rockis Ntl Park) and continued two more hours ascending to the 6000ft plateau to my campground.
At 9pm, I've almost set up my tent just in front of the campground chief, who super politely diverted me to the other end of the grass. Again, I was the only camper in the RV park.
May/27 – Day 6: Grand Canyon of the Gunnison, CO
It's def the narrowest canyon I've seen, 600m deep and like 300m wide at Chasm view.
Hiking the steep Warner *route* in Black Canyon of the Gunnison.
https://www.alltrails.com/trail/us/colorado/warner-route
Passed everybody on the way down, arrived first and took a quick bath in what used to be a black sandy beach (Photosphere). FTR, canyon was formed by lava flow and then the river re-carved it.
Way back chatted with an older polish couple whose goal was to do all National parks, wow, what an undertaking! I've asked how many, 28? He proudly replied 59. At end of the back-ascent, I've just reached the backpacker guys which I bumped to on the way down. They asked how I'm so fast, that they are so tired. I simply replied: I'm visualizing my motivation – big steak on the top.
Stopped by couple of overlooks – on one we saw climbers going up – it takes a full day and they were so small!
Chatted with some Colorado girls, one of was supporting a swimming team of USA, wow.
Lady from Oregon – you're pretty hardcore, she did 28miles on Monday.
Checked back at the visitor center that I'm alive, lost my swimming gear as I left it on my roof.
Drove 3-4h toward the Great Sand dunes. The overachiever polish couple said: It's an unique park, nothing else like that in the USA. But just hike the big dune, there is nothing else there.
When reading the guide, they suggested snowboarding or skiing down – since I've brought my skis, I have to ski it.
In the camp, a little high Coloradian invited me to join their fire. Both girls were beautiful, guys super sporty, e.g. he skied for 140 days the year his father died. I've politely inquired about their life – they have a lot of fun outdoors stuff, but job is nothing special. He organises trips for wealthy people in Breckenridge.
May/28 – Day 7: Great Sand Dunes, CO
"Colorado – it's like Switzerland with pickups to me".
Realizing it's the Memorial day weekend, I've left by 7am, to arrive by 9am and climb the big dune with my skies on the back.
I had a clear picture clipping into my ski boots and running down, and I know I will have sand everywhere till end of my trip, probably some accumulating in my room 3 weeks from now.
Anyway, I did it, and entertained other folks. Maybe should've waited till more crowd gathered.
A cigar smoking couple (first on top) proactively volunteered to take a video of it. It was fun! But I couldn't really turn. I think I should've jumped a little.
On my second run the binding disassembled. Although I had a similar breakage before, I couldn't repair it likely because of sand – need more tooling.
I wasn't much tired so I dropped my stuff and walked to the "Star Dune", without water. Afaik I was the only one doing it. After ½ mile I indeed felt super alone and it was one of the quietest moments of my trip.
On the way back I've got lost around the omnipresent sand and resulted into climbed extra. Optimal was staying in a long dune valley, around the grassy parts and climbing only to the High Dune.
Altogether, it was a fun experience and an unique view to the review of melting snow running through the sand dunes. Interestingly, the stream had these cycles of ~15seconds when a bigger flow pushed through. I believe it has to do with sand accumulation creating a short lived dam.
Four hours of driving to Winter Park.
Story of polish guy and his daughter skiing tomorrow.
Laundry.
Bar – "everything ok bud", formula 1.
Hot tub.
May/29 – Day 8: Rocky Mountains, CO
Polish guy, visas, truckers and considering returning back after 28y to Zakopane.
Rockies visitor center, discussing potential backpack for a long time as the main ridge is closed until 1st of July.
Going up and camping just before sunset, a nearby tree loudly falls just when I drop my bag.
Met this day hiker with snow shoes who attempted the lake – but I didn't see his footsteps.
Lot of fallen trees because of this fungi carried by a beetle.
First time camping alone, 8 miles from civilization in freezing cold.
May/30 – Day 9: Rocky Mountains – Nanita Lake, CO
Counted 143 fallen trees across the path (one-way).
https://www.alltrails.com/explore/trail/us/colorado/lake-nanita-trail
First time using my new crampons and swearing a lot while putting them on – after I've figure it out, I actually liked them a lot.
Realizing I can have my gaters too with it.
Making the same mistake again, didn't take my ice axe again (but I had my shovel, omg).
Nice views, quiet. Wanted to reach a peak, but rationally turned back.
Was thinking some shit way back, camped down in the meadows.
May/31 – Day 10: Driving to Grand Teton Ntl. park, WY
Again, long 8h drive through north Colorado and whole Wyoming.
Paying $50! for an electrified camp spot, OMG (all non-electrified were taken). But was short on time, was a nice view campground, but still.
Ruined somebody's photos by throwing frogs with the not so suitable stones.
The view was indeed beautiful.
June/1 – Day 11: Grand Teton – Paintbrush pass: First time snow camping, WY
I remember packing pretty early and reaching the backcountry office just after they opened. It took about an hour to decide which trail, check with conditions, watch the similar video again, buy stickers and such. Then I've spent a lot of time finally on the Internet, started writing Nevada post cards, Utah post cards and shipping them later.
Repacking for snow took an hour.
Met this Oklahoma guy who asked me about my poles, what are good for. Knees, stability on snow and backpack, also for skiing. Then asked if I carry a bear spray. I said no, I know what to do, bears don't want conflict. He: no conflict? Me: Yep, because they don't have hospitals. He: Hahaha.
Hike to snow camp.
So started going up maybe 2-3pm.
Trail had little traffic, met a couple with kids and these three girls who turned back when reached end of the footsteps – that's where I've got lost too by trying follow the summer path.
It take me much longer because I've tried to be smart by going up sooner rather than later, but mistook that ridge for another.
When realizing my mistake, exhausted on top of the side ridge, I just said: Shit. Because I would either return down 700ft and climb that stuff again (somehow snow climbing is super-tiring, only able to make 20 steps and then need to rest), or I would cross that super-steep forest. Decided for that. I had to throw my backpack down at one point and down climb. Made holes on my t-shirt from scrambling through the fallen lumber, rocks, bushes and streams. Survived, and tested my new Helium pants and they holded pretty good (I'm a satisfied customer, really good combination of breathable waterproof pants).
Anyway, that led to a new rule: with snow, stay at the lowest point, and climb up only when you must. You can do pretty steep shit anytime.
First time when loneliness striking me. Started to made up a conversation with Mr. Hat, he has a style and wears sunglasses.
June/2 – Day 12: Grand Teton – Paintbrush pass, WY
This trail was recommended by the park rangers for the snowy conditions at end of May. (first I wanted a two night backpack of the Grand Teton loop).
And it was pretty amazing, did winter camping at Holy Lake, practiced with crampons and ice axe (safety) and learned that the best way up on snow is straight. At the divide, used the route to get up the unnamed mountain on the RHS – well worth it, glorious views including a front seat for viewing Grand Teton.
Going straight down Paintbrush divide – required braking with an ice axe for ~200ft elevation but quickened the slow snow route by a lot.
After that, pretty straightforward down. I also very liked a point in Cascade canyon where the river gets wide and you can have an island for yourself.
Was much more crowded in the Cascade canyon side, there was also a moose.
https://www.alltrails.com/trail/us/wyoming/paintbrush-divide-and-lake-solitude
Itinerary:
Day1: Jenny Lake trailhead 3pm. Winter camping at Holy Lake campground @8pm (permit required).
Day2: 7am starting, 10am reaching the divide (much slower going up in slow with a backpack), enjoying views, 12am going down and getting back about 3pm.
It's doable in a day with snow, but would reserve at least 12h for it.
My first summit after Wheeler peak and it had truly amazing view and was pretty tiring.
Ice axe saved my ass – good investment of watching a instructor video at the visitor center.
Hiking down pretty fast paced, straight, cutting through snowy forest and shouting Ohoho! For bears.
Met first people only after the junction. Was reporting almost to all of them the conditions upstream, snow, mud, moose sighting. Best way was to led them go, it started the conversation instead of rushing through them. Took a quick bath in the lake with the old style swim suit. Ladies made comments, mens stayed grumpy.
Sent another bunch of postcards and uploaded the photos (fucking 32G phones).
Hiked .5 mile to my campground – screw that $50 fee campground, this was like $5. There was one other lonely guy so I've made myself known, but didn't follow up with the conversation. Somehow, I'm always in a hurry.
Refreshing swim.
Rest of the day
"Backcountry camping" instead of "resort camping", $5 + 0.5mile instead of $50
My old shoes got pretty wet from the snow trips, and also started to stink. So I've experimented how to overcome this issue without having much sun time for most effective drying. First I've tried heating up my shoes on the stove, as heat helps evaporation. But I was loosing a lot of heat. So I thought how to preserve it? Saw some rocks, put them on stove, put them into shoes and it worked pretty well (but on my second attempt I've got overconfident and overheated the stones, which burned the inside of the shoe).
Back home the most effective way was use fruit flavored vodka, put a shot in each boot, shake it and let it dry on the strong sun. Thanks Eliska!
Mr. cap
After 2w of alone time, only talking business to people I've started craving for company.
Just basics, sharing my life with somebody. Or just hugging somebody. So I've created Mr. Cap and Mr. Backpack (was reluctant to create female characters as I wanted to be just friends) and started loudly sharing my feelings about experiences, and answering their curious questions (like why are they called redwoods, if they are clearly grey?).
June/3 – Day 13: Yellowstone geysers, WY
That funny guy.
Dad joke: Seeing a geyser making you weiser (I've actually learned the pronounciation).
Backcountry office. When they heard I want to play alone in the park, they turned to be super-protective. Like there is a lot of bears here, if you going alone I strongly suggest a bear spray, there is snow here. So they diverted me into the Black Canyon of the Yellowstone.
I wanted a backcountry place to stay, as most of campsites were getting full or were still closed due to snow.
Yellowstone is a super-volcano, which erupted each 600k years – and it's about time to erupt again.
Lot of tourists taking pictures.
I've liked the Prismatic Lake, with it's rainbowish colors due to different bacteria colonies, the smell and how hot vapour first heat you up and then normal dry air cooled you down.
Oh, the tallest predictable geyser – the expected eruption span is 3h.
Carcasses on the way to the camp, a Colorado couple taking one antlers (horns) out.
First time I've seen rangers controlling permits. They showed themselves in position of control, but I had my paperwork. The only questioning was if I've a plan, how far is my campground, when is the sunset, map and all these basics.
June/4 – Day 14: Black Canyon of Yellowstone, WY
My adventurous self strongly prefers loops against out-and-back trails, it just must experience as much new stuff as possible. But looking at the Yellowstone map, there are only few of them, all closed or at least 70 miles. So my initial plan was going out of Yellowstone, to the neighboring national forest (fact: you can camp wherever you want there) and return on a unmaintained logging route. But I wasn't able to find that trail, so decided to just cut it back on the ridge and explore realer wilderness. First, I've ascended ~100m just to realize I'm running out of time for this, but saw the other mountain looks good to get up onto the ridge. So climbed down and went up again. I was pretty tired going steeply up (already 18miles in my legs). It took me long, so had to course-correct to a side-ridge and then re-joining the original path for the last 4 miles. Loose rock, bushes, grass, forest made it slow, but the omnipresent mosquitoes and well-designed deer paths kept me on speed.
I was sick and tired of canyons at this point, and indeed all the previous canyons I've liked more than this one.
The most unique was wildlife, lot of carcasses, seen a bison, coyote, elk.
Half of bison. Really, half.
Was impressed by the effectivity of the deer paths. Every time I've sidetracked thinking this way is shorter / easier / better, I was proved to be mistaken and returned to the deer path. Even they found a really good stream crossing (but the overwhelming amount of mosquitos).
Great colors after a brief rain, the play of sunlight.
Strange elk voice.
Strange voices during the evening – camping on a grassland often visited by wildlife – showed by number of poo.
Overtaken couple of groups, everybody was pretty happy but the father son duet.
Unique bright blue lake next to the muddy river.
Thunderstorms and my safety concerns.
https://www.alltrails.com/trail/us/montana/black-canyon-of-the-yellowstone-trail
I've did most of the trail and decided to return with a deer path just below the ridge for pretty good mountain views.
The canyon itself is not that spectacular (e.g. Black Canyon of the Gunnison, CO is much better),
but this trail features a wildlife (bison, elk, coyote, .. ) and especially carcasses (tons of antlers, a half-eaten bison).
Overall, the trail felt stretched – not that many nice places compared to its length.
The upside it's in the lower part of the canyon, so in early June, when south is covered with snow, East is occupied by bears with cubs, this is the safest option for backpacking. For day hike, I would recommend Mt. Washburn.
June/5 – Day 15: Rest of Yellowstone, WY
Morning routine: Shoe up, empty tent, dry tent, start cooking, pack sleeping stuff, resume cooking, pack everything else, pack tent, plan the day, eat, drink, get drinkable water.
5 miles up to the parking lot.
I was super-tired after yesterdays ~30mile with ~1km elevation gain so slept like 10h.
At the parking lot, had to repack everything to fit into the car – I mostly wanted to dry and de-stink stuff, experience taught me it's just much better to stash it into the car and repack at the sleeping place.
My plan was just to drive around Yellowstone and then take a two day wellness in Bozeman, Montana. Hot springs and stuff.
Talked to guys from yesterday, they actually went a similar route. Somehow girls were much more talkative and welcoming to my alone group. Guys were pretty reserved.
Consulted my favorite book: "Your Guide To National Parks", it's pretty good and covers a lot of backpacking too while providing the basic information, park history, what's special for, usual crowd and most importantly "Don't Miss", "Hike", "Backpack" points in the park. I must say, all of them were great.
Was driving through this pass, beautiful weather and the views were even better than my hard-earned lonely view of yesterday. So had to hike up. Mountains are calling and I can't resist.
https://goo.gl/maps/3BwVyeE7fmJ2
"Best mountain view in Yellowstone, you see the lake, canyon and all of surrounding mountains, even the Grand Teton. I *loved* the mix of colors, white snow, green grass (from melting snow), yellow canyon, blue sky, different blue lake and the volcano rock adding some black. And the vastness. It was like compressed Alaska, wow.
I've spent the previous day backpacking in Black Canyon of Yellowstone, and even if I hiked up the ridge, those great views were dwarfed by Mt Washburn.
And they even have a visitor center describing what you see, it's history and most importantly, it provides a shelter from the strong winds.
This Belgian couple I've met four times – they were following me.
This super-hot spouse claiming she cannot go down 200ft, claiming she is out of shape. I've pointed out that grandmas do it and her husband chuckled. That we met again, clearly they didn't do it and I said: "I'm truly disappointed".
The path itself I've disliked and sweared upon, it's designed for cars and gains elevation just so slow. On the way back, I've cut it down through the snow (essentially skied down, both main switchback and the first big one). So it was like 2h up, and 0:40 down. "
Binoculars were handy, seen some special owl and last roaming bison herd. Strangely, there were a couple of lonely bisons maybe mile or two away from the herd. Contemplating if these are bachelors getting ready to climb the social leader, or they are scouts protecting babies (most frequent target) from potential predator attack.
Bubbling mud volcano, like farting in bathtub.
And steam pipes – like earth factory sulphur emissions.
And I loved all the river bends,
TODO: canoe down some big ass american river.
Grand Canyon of Yellowstone – cute painted version of The Grand Canyon in Arizona. Yellowstone falls.
Mammoth Hot Springs https://goo.gl/maps/r2iTi4i4wPL2
TODO: Why terraces are formed instead of "solid rock" as in caves?
If life offers you free food, you say yes.
June 6 – Day 16: Chill day at Bozeman, MT
Oil change. https://goo.gl/maps/tLSqxvRzdc92
Eat a ton, sleep even more.
Do laundry.
Museum of the Rockies: https://goo.gl/maps/7eJz31qG9h32
Hot tub & Sauna
Real MountainView lodge https://goo.gl/maps/djKuBcU3S1F2
Spent a lot of time writing down notes
June 7 – Day 17: Driving to Glacier Ntl. Park, MT
In the next 6 hours of driving, the biggest town had 3,000 ppl in it.
Definitely more happy green grass fed cows than number of humans in Montana. Lot of empty vastness, grasslands. Seen some military vehicles which reminded me how much money is spent on Defense in the USA.
After 4h, the mountains started to show up in the distance. Some canyons preceded them.
Went through 1h of backcountry planning in the visitor center. The weather prediction was afternoon thunderstorms with possible hails and all the passes were closed due to snow (most of ppl were super-sad that Going-To-The-Sun road is closed – it's one of the most beautiful "american hikes"). Therefore I've just chosen a big good looking valley and did a two night basecamp backpack.
Had to watch yet another video about the backcountry. I'm sick of "bear safety" taking up like ½ of it.
Spent time online, writing postcards, writing more notes.
Learning about Glacier, the 1B old rock clashing with sea sediments (~1/3 of USA was a seabed 10s of millions a year ago).
Backpacking to base camp 6miles from trailhead.
Essentially getting into the valley with nice sunset. The peaks are sharp, sprinkled with snow.
Talked to a Kansas – Upper New York State couple.
He said: "people say Kansas City is in middle of nowhere, but I say I'm from middle of nowhere, where the closest neighbor is 4miles from you, and everybody knows everybody".
What to do there? Lot of wheat, and some lakes.
Upper NY is Kodak (doing poorly competing with smartphone cameras) and Niagara falls.
Shared some backpacking experience.
Went to sleep early, as I wanted to wake up before sunrise to finish back before the predicted thunderstorm.
June/8 – Day 18: OMG views in Glacier Ntl. Park, MT
In expectancy of afternoon thunderstorms, knowing that weather is much better in the morning and already investing so much effort to get here (drive 6h, backpack 6miles, vacation), managed to leave by 5am with breakfast and reached Atsina Lake by 8am.
The ford looked dangerous and RHS had a nice ascent through dried out stream, so decided for that. Got excited so continued all the way up to South Stoney Indian Peak (8750ft).
The view was AMAZING. OMG, the 4000ft wall drop with lake views and other the sharp continental divide. I've climbed a lot of mountains, and this was top-notch.
I also felt a little scared. Alone with not that much mountaineering experience. Also the thunderstorm coming. So decided to run down.
Then I saw a bear right on the route I've planned to take, so made a big detour with safe visibility. Instead of taking the switchbacks, I've cut it down with using ice axe as a stable point.
From that side, I've cleared seen what I was doing hours ago – the mountain looked pretty steep from this side. If had seen it from this view, I might haven't attempted the climb. But as I saw only next 300ft elevation gain, I've kept going in expectancy that the peak is close by. Sometimes is better to be half-blind and careful than overthink the whole picture.
Got
https://www.alltrails.com/explore/trail/us/montana/mokowanis-river-stoney-indian-pass
Stoney Indian Peaks South climb: https://goo.gl/maps/JgDb2V9M4HU2 (Photosphere)
The way back was auto-pilot-ed and I've also forgot about the thunderstorm as it had no precursor but a cloudy sky.
Met this photographer, he wanted to get a shot of Mt. Cleveland (highest peak in the park, next to the mountain I've climbed), but he wasn't able to make it with all the heavy gear. To some satisfaction, he got a shot of a mum bear with three cubs (that's a lot, usually they have 1-2).
Then the storm knocked on the valley, with dark sky. Shortly after wind got up, signaling a change in weather. So I've hastened up, take a quick bath in the river, cooked dinner while counting seconds from flashes to rumbles (10sec). At this point trees start to bend and squeak, saw a scared deer walking into our campground forest – that provided significant cover from the wind, and even kept a few spots dry in the morning. Thanks trees!
Just when I've zipped the tent, the downpour started.
Recalled my first ever backpack in Velka Fatra, Slovakia. It was a summer week-long trip with my math teacher Anino and we got to similar situation, but on ridge with a forest. No tree fell that night, so although I was a little scared, I've felt pretty much safe. After calming down, I've exhausted fell asleep at about 8pm.
June/9 – Day 19: Low key day, going around Glacier, MT
Backpacked up the last 6 miles to the trailhead in the muddy post-thunderstorm conditions. Kept overtaking with a couple and whoever was leading, kept shouting for bears. That was encouraged after we saw clear grizzly steps in the mud.
Again, started re-packing everything, tried to get if most of the mud.
There was a fun group of travellers, just graduated students bought an old bus and were wandered around, they even had a generator. Anyway, their first goal was fun.
Rest of day was spent driving around Glacier into multiple valleys, some of them were rainy, some of the sunny and the other (West) side very calm. I say East Glacier was nicer (is that related to moisture coming from west?
June/10 – Day 20: Long drive to west-Washington
I'm done with this trip. Let's go home. This has no reason. I'm so tired.
Just busy going somewhere, intaking nature's beauty and spending money for self-advertisement.
I'm so alone. Nobody to talk to, share moments, have fun with. Just me, car, road and the next national park (and Mr. Backpack).
So tired.
And still didn't finish my ultimate goal of this trip: self reflection.
Since is the last week of my vacation, it's time to take it slower. The 25 mile, 4000ft backcountry mountaineering trip to ridge of Stony Indians was prob the hardest and least responsible thing I've done. At least Petr would be proud.
Ok, now that I showered I feel pretty energetic again. Need to do more, get also stickers from North Cascades and Olympic.
But screw that, both are like +5h and I've already visited them with Sergey and Jakub, so just for the sticker it's too much. Let's stick with Rainier, Portland, Crater Lake and Redwoods, take it more chill.
Stayed at Yakima River RV Park. Shared life stories with the owner.
June/11 – Day 21: Mt. Rainier, WA
Again, the weather forecast looks *un*favorable, so woke up 5am, to get to Paradise at Mt. Rainier by 9:30am (took the scenic route through Yakima River Canyon) and hgwy 410.
Started hiking the Skyline trail, was sad with myself that some people already returned before I've started – so slow Peter. Anyway, ended up going all the way to Muir camp https://www.alltrails.com/trail/us/washington/camp-muir-route-via-skyline-trail
.
Anyway, was in such a rush at the parking lot from the worsening weather, that it didn't occur to me to take my skis with skins. I facepalmed so many times during the 5h hike. Shiit, what a wonderful ride all those guys had! And like Peter, you took your skis to sand, but you leave them in the car for snow? Ok, they were still broken from the sand, so that's an excuse – but should've repaired them by now. Mind note: next time bring a toolkit.
Though Muir Camp is pretty close to Mt. Rainier summit, but actually it's still 5h+ with glacier crossing and a little of rock climbing after Disappointment point.
People say you should start 10pm if you want to do the summit in a day from Paradise. So rather they start like 1-2am from MuirCcamp. Asked rangers about permits, and said they never fill up the quota. So next time I just need a group and a spare weekend.
Views were gorgeous and even that my body was super-tired after these intense 3 weeks, something flamed up in me and kept whispering to my ears: Mt. Shasta is calling, if you would get only ½ of these views with clear skies, is would be almost heaven. You can do it. Do it. Mt. Shasta. It kept going back, as rationally it was no (detour, alone, last day, tired, parting in SF on the summit day).
Shasta, Shasta. It kept repeating as the "Foxie" song after seeing a fox at Pyramid Lake, NV.
https://open.spotify.com/track/6EQiJymHib5Klwe5KUfIcF
Rest of the day spent stopping by Narada Falls and some views.
Met first hungarian travelers, living in Seattle. They asked "Ez a Mt. Rainier?" and I've replied "Igen de nem is, a felhoktol nem latni".
Stayed at Portland for two nights – it was time to start recovering.
First night just fall asleep.
June/12 – Day 22: Mt. Hood & Portland, OR
The mountains are calling and I must go – John Muir (and some caveman before).
Woke up and got this drive to use all my skiing gear, in the resort of Mt. Hood (volcano) where the season ends only 8/31 (yes, August).
I was hesitant going, as the National Weather forecast looked cloudy and windy for Mt. Hood, then I've checked mountain-forecast.com and it said sunny and windy. Although USA poured $1B into weather.gov, I've trusted the mountain specialist and gambled the 1.5h drive through rain and clouds.
The decision was rewarded by a half-sunny weather at parking lot. So I went inside Timberline Lodge, repaired my skiing with complimentary screwdriver, bought a day pass for $68 and run to the slopes (at 8am). It was indeed super windy and I wasn't really prepared for that (For future Peter: always put the warmest clothing in your car, it has the space).
Anyway, had a remarkable glimpse of Mt. Hood and the lodge. Skied a little, first warming up at blue and then went up to black – where I learned why they are still open on a June Monday. The USA, Canada and Austrian youth ski teams are preparing here (they had much better warm, rain&wind-proff gear as overpants and such).
So watched them doing short slaloms, and just try to catch their techniques. Even stalked these 6y old children who were skiing as good as I was walking. Tried their drills (poles in hands and keep them perpendicular to the slope, no poles, fastest possible left-right-left-right and so on). It reminded me of our high school ski lessons.
Had a second breakfast to warm up and did two more rides.
Financially, it wasn't worth it, but a pretty unique experience.
Relaxed most of afternoon at the motel.
Explored Portland in the evening. No comment.
Lot of breweries, hipster places (seen multiple times: "Keep Portland Weird"). I really liked that the name was "coined" by a coin toss between the founders, who both wanted to name the new establishment by their hometown.
They were a lot of natural beauties in the city.
June/13 – Day 23: Getting to Crater Lake, OR
Long drive again. From all the 13 national parks, this had my lowest expectations and I've decided for its remoteness being kinda on the way, i.e. when again I will be "around"?
The lake itself is beautifully blue, but not much hiking options around. Best activity to do here is cross-country skiing as the snow lasts long into summer, and the loop road around the lake makes a perfect path.
So decided to try cross-country skiing with my all-terrain skis.
I sweared a lot, as I first was super slow, especially on the small uphills with frozen snow without skins, OMG, I had to have scared away all the bears.
Camped at Sun Notch overlook. Fell in love with Mt. Thielsen, even more after realizing there is an official trail up! https://goo.gl/maps/ujxb4WVrJCD2
Night was pretty cold.
June/14 – Day 24: Enjoying Crater Lake and transmission problems, OR
Woke up normal, but slept like 10h+. I had to go up the ridge, used my skins. After it got too steep, went only with boots (they actually work pretty good, you can hammer in steps).
So many volcanoes! Seen Mt. Shasta, Mt. Scott, Mt. McLoughlin, Mt. Bachelor and Three sisters and all these volcano remnants as Mt. Thielsen or Diamond Peak, easily distinguished by their snow cap (Photosphere).
Skied down on icy slope.
Cross-country skied back to the car, almost 3x faster and was getting into the technique too! Can be a lot of fun. All this resulted in the most sever tights sore I had in years.
Packed everything, started car, get nice picture with the sticker, ate my lunch, talked to a Virginia family travelling the whole West Coast and then drove out.
After everything was done with Crater Lake, started to driving towards California. But on the first stop sign, suddenly, my stick-shift stops working. Luckily it's all downhill from there, so I get to the visitor center without needing the engine nor my transmission. Try to shift there, but sadly it doesn't work. Trying to inquire about towing services (no internet, closest city 100km). Luckily, there is a super-helpful post office lady Lisa with all these phone books. She calls a "nearby" tow service and they quote me to $650 (I've no insurance, no AAA, .. I say the cheapest insurance is to have cash stashed away). That sounded like bullshit to me, as I've towed for $550 from Fresno to Bay Area (260km).
So after briefly consulting with the super-helpful lady Lisa, decided to give it a try to get to Medford, it's mostly downhill anyway.
At the parking lot, I've used the force which was strong with me, and put it into first gear, get some rounds around, felt good enough. Most worries come from weird sounds when I've engaged the clutch, but the super-helpful lady told me I can try speed-shifting, i.e. without using the transmission, just to get to similar rpm (I do that unconsciously anyway).
Ok, was going slowly down on 3rd gear. I like the 3rd gear, as I can start my car from 0 (benefits of a strong engine) and can go up to 40mph without feeling regrets out of high rpm (remind me the story of an american in europe, who tried driving on the freeway with stick shift being in first gear – thinking that's automatic transmission).
Later on I've encountered the magical road bump at a construction site, went through it and since then shifting was pretty reliable – just getting a little bit of weird sounds. So I've put in the highest gear and drove to the highest rated car repair shop in Medford (https://goo.gl/maps/krJJT4ZE4fR2 ). Before inquiring at the shop, I've tried going 0-20 for 20 times, and worked flawlessly for 19/20 times. Still asked them to take a look. He said I should come back 8am and that the story sounds pretty unique.
After contemplating if I should just drive more and risk it, I decided to stay and inspect it. There was enough breakage in my cars from my carelessness.
June/15 – Day 25: Redwoods, CA
They didn't find anything after verifying the clutch is ok, the fluids are ok, so if there is an problem, it must be in the transmission. Yeah, it has 100k miles on it, was used by multiple owners and it's a sports car. Transmission change is ~$3k, so will postphone it for now.  I've changed the clutch along with the broken engine, so that one should be indeed fine.
Anyway, last national park on the list, the tallest trees in the world, the Redwoods.
California welcomed me with rain.
Realized that a true benefit of a convertible is a scenic route in a big forest, because you can see the top of the surrounding giants!
Hiked the Boy Scout Tree trail, felt like rainforest, tree was pretty goddam tall.
https://www.alltrails.com/trail/us/california/boyscott-tree-trail
Somehow felt pretty tired, so instead of camping stayed in a motel in Eureka.
Oh, and did a little experiment, going into a hawaiian restaurant with my fresh hawaiian shirt. Got the attention of the friendly owner, after he said aloha, I've unzipped my coat to proudly reveal my aloha shirt while saying aloha. It ended up by him giving me a pen which says: "Stolen from the Hawaiian restaurant".
June/16 – Day 26: Hwy 1 and finally home, CA
Even before the trip, I was imagining driving the scenic oceanic hwy 1 from Washington all the way down. This plan had changed with going for Ntl. parks, especially Crater Lake.
Anyway, woke up 4:30am and started driving 4:45am, almost completely alone. The first 1:15h was only freeway, to warm up the car. Then the fun part began! Made rules to stay alive on my last day. Beaten Google maps by 46mins on a 3h segment, while waiting for one-way traffic and losing 5mins behind a big truck.
Rest of days enjoying nice vistas, swearing to super-slow drivers (especially around the Point Reyes area, once I had to stop and calm myself down). It started feeling homey, like a long dream ending. Was awaken by the Golden Gate bridge, and the worst traffic in my 5000 miles, in the Bay area around 11am, Friday (so not even worst BA traffic).
Got home, kissed the ground as a symbol of thanks for staying alive, and took a nap.
Conclusions
<philosophical>
TLDR; It changed me. I've started to simplify my life, focusing more on current task, turning down the omnipresent noise, saying "no" instead of "yes". And also resumed working on my character, instead of the image of it (images like this lengthy blogpost full of pretty media content).
So what was the value of this trip? (price was 28days of my life, and lot of money spent (37.41% hotels, 21.74% food, 12.02% gas, 28.84% other for those curious)).
It indeed cleared my mind, but for that, I could've just gone to middle of nowhere.
I've Seen beauty of nature and that's worth preserving it. But that we already know.
Worked out my body, especially my legs – but that I can do in a gym, or even home.
Biggest added value could be the brief interactions with pseudorandom people and dealing with novel unforeseen situations, which both surfaced my behavior. That happens a lot in everyday life, but adding loneliness into, provides lot of uninterrupted time to analyze this behavior and tune my character.
Anyway it changed me, I definitely feel rested and excited for the next challenge! 🙂
</philosophical>
I tend to like intense travels, to do (not just see) as many novel things as possible. In conclusion, I believe I did plenty exploration, but still a lot of the travel time was spent on maintenance – build tent, pack tent, re-pack backpack for a different activity, make dinner (total ~2h/day). Also considerable time was spent on en route planning, maybe 1-2h/day. And writing this, with filter photos, ~1h/day.